28 September 2023 - EUNIS congress 2023 – Day 2
This year's EUNIS congress focussed on digital transformation: the challenges and opportunities ahead. Taking place at the University of Vigo in Spain over 200 delegates from across Europe enjoyed three days of interesting talks and workshops.
Julie Voce (City, University of London) and Melanie Barrand (University of Leeds) are members of the UCISA Digital Education Group and were funded by UCISA and EUNIS to attend the congress to present the findings of the 2022 UCISA Technology Enhanced Learning survey.
In the second of two blog posts, we present our highlights from Day 2 of the congress.
Keynote: Who will teach in the intelligence society?
Day 2 began with a thought-provoking session 'Who will teach in the intelligence society?' presented by Senén Barro, University of Santiago de Compostela (Spain). Senén described how ChatGPT and similar tools are shaking up the world in a way that hasn't happened since the world wars and the invention of mobile phones. Instead of focusing on how ChatGPT could be used to cheat in assessments, we should ask how we can integrate these tools into the teaching and learning process. How can we use them to learn more, learn better and learn faster? Senén argued that what differentiates us from intelligent machines are the skills employers most need from us and these skills aren't taught enough at school. Before long, AI will know what we need to know and will be able to even anticipate what we are going to ask. It will become a personal assistant for learning. The better it knows us, the better it can help us to learn. Teachers will no longer be the main source of content contribution, instead their role will be to guide and inspire.
Learning and Teaching: innovative pedagogy
This was a session with multiple presentations. First up was Anna Pacholak, University of Warsaw (Poland), who presented their approach to create a common version of an ABC Learning Design workshop for a collaboration involving six research universities within the 4EU+ Alliance.
Then we heard from Joost Verdoornfrom Feedback Fruits who worked with the Rotterdam School of Management who have developed a framework that distinguishes students by key competencies related to business roles. Key to success was the implementation of a robust framework of rubrics used across the schools. There was teacher-, peer- and self-feedback throughout the course, enabling students to see how their ratings shifted.
Danilo Macrifrom Instructure then presented on changes in education, notably how the world has changed post pandemic with more and more teachers on YouTube and Tik Tok. Danilo then presented Instructure solutions to help empower teachers with technology, create a sense of community and offer skill-based, non-traditional programmes.
Panel session on hybrid future(Photo: EUNIS)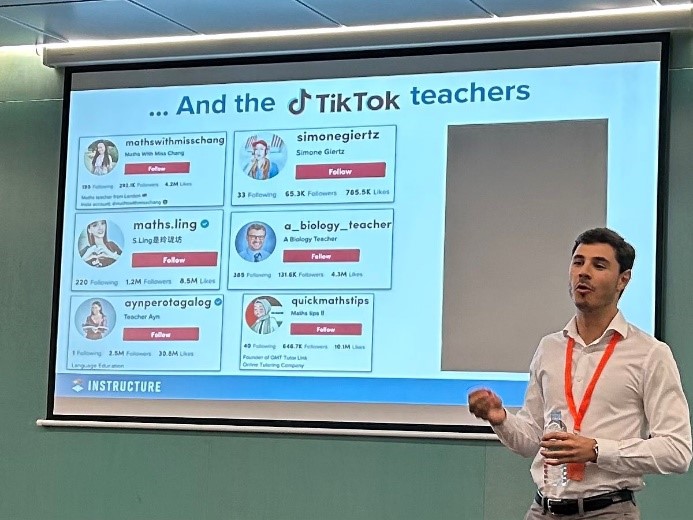 Danilo Macri presenting about the rise of TikTok for education.
Finally, we heard from Martín López Nores, University of Vigo (Spain) who are building a metaverse to offer a virtual environment where people can meet to do things not possible (or difficult to achieve) in the real world. One use case is building a space for Roman Law students to practice their speeches.
IT Trends and Digital Education Landscape
Our workshop on themes from the 2022 pulse TEL survey results was part of a session on IT Trends and the Digital Education Landscape. First to present was Malte Dreyer, Humboldt University (Germany). Malte's survey reports on the most important topics and trends of IT institutions from universities and research institutions in Germany, with typically 120-140 respondents. Our key takeaways were the large number of tools in use being open source (53%) and the amount of work required to investigate digital sovereignty (due to sanctions in relation to the Ukraine war).
In our workshop on the 2022 Technology Enhanced Learning (TEL) survey, we presented the findings from the TEL survey looking at three key themes: TEL reviews, TEL staffing, new demands. We then split into discussion groups on key areas and reflected on perspectives and experiences from European institutions about the role of digital pedagogists, implementation of accessibility legislation, digital assessment and proctoring, and hybrid learning. It was interesting to note that we are all grappling with similar challenges and that different institutions are at different stages of implementation.
Julie Voce presenting findings from the UCISA TEL survey (Photo: Gill Ferrell
Plenary and panel: Hybrid future
This panel session was chaired by Ben Barnard from AVIXA and included colleagues from X20 Media, Aristotle University Thessaloniki, University of Kassel and Panopto. Rob Brinklow from X20 Media opening the session with a presentation focussed on designing for hybrid teaching and encouraged us to consider the learning environment, how to create human connection and how to maintaining learner equity. He noted that a key challenge is trying to join two different cohorts of students together, which means that co-ordination and preparation are critical and there is a need to take a digital first perspective for content. He also discussed the difficulty of providing a seamless, immersive high-quality hybrid class and advised that the technology should be scalable, flexible and secure, interoperate with other learning platforms, be easy to use by instructors, be simple to access by remote participants and provide analytics. Key points from the panel discussion included the role of hybrid learning in supporting inclusivity and student mobility and the importance of clear terminology when talking about blended and hybrid learning; Rob noted that in some cases the meaning of hybrid learning is moving away from remote students joining from home to connecting two or more classrooms together.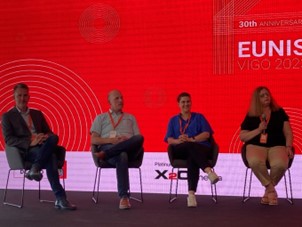 Panel session on hybrid future (Photo: EUNIS)
Learning Spaces
In this session we heard about learning spaces developments from several institutions. Highlights include:
Giorgios Roussos and Angeliki Agorogianni from Aristotle University Thessaloniki (Greece) described how they transformed 105 classrooms with AV, including automated streaming/recording and basic remote audience participation. This also included 5 hybrid digital learning classrooms, 1 studio for educational content production and two operating theatres with tele-education technology. Their advice for others included having clear project goals, undertaking a needs assessment, establishing a comprehensive budget plan, assembling a skilled expert team, delivering comprehensive training, conducting rigorous testing, developing a proactive maintenance strategy, and continuous evaluation.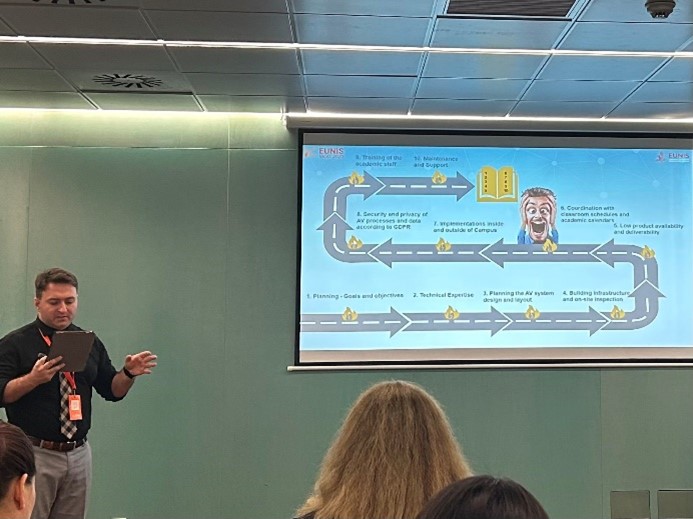 Giorgios Roussos presenting about AV transformation.
Juan Antonio Martínez-Carrascal from Universitat Autònoma de Barcelona (UAB) (Spain) discussed redesigning learning spaces and the need to understand why students come to the spaces, rather than stay at home. At UAB, they have been rethinking traditional spaces in order to design for learning that fosters collaboration and innovation, including the creation of co-creation OpenLabs (spaces open to the public).
Siem Buseyne and Hyacinthe Lesecq from the University of Lille (France) shared their design process for learning spaces, which included interviews with key stakeholders as well as looking at recent research into international trends, hybrid learning, and learning and classroom analytics. They presented some of their learning space developments including a Moot Court for Law, hyper flexible classrooms, pedagogical pharmacy for simulated practice, comodality room for hybrid delivery, and observation room.
The day ended with the Gala dinner and presentation of various awards.
Copies of all presentations are available from the EUNIS congress schedule. If you have been inspired by our blog posts and would like to attend the EUNIS congress in the future, EUNIS 2024 will be taking place on 5-7 June at the University of Athens.