UCISA's Transforming IT Procurement Practices Working Group reformed in the summer of 2022 with Terms of Reference that include providing thought leadership and adding value to IT procurement practices in the Higher Education sector.
As an early initiative, the group considered the feedback from a UCISA survey across member institutions from earlier in the year. Following a roundtable at the inaugural Ahead by Bett in March 2022, the key findings of which were released in a previous Directors Cut publication, members were ask to complete a survey to gage current practices in IT procurement across the sector.
This edition of the Directors' Cut - IT Procurement as an enabler of HE Technology outlines three broad areas, drawn from the findings, which the sector might focus on to address the challenges of internal procurement set-ups in HEIs and to better enable the procurement function to act as a strategic value creator for delivery of information technology services.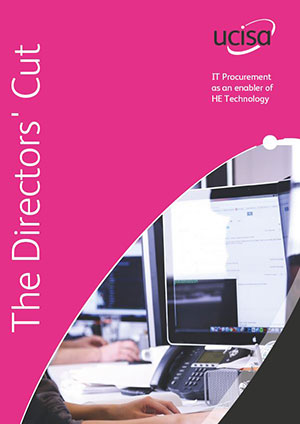 Click to download