06 January 2020 - Microsoft Ignite Hot Topics: Reskilling staff for cloud, and Windows Server 2008 end of support
Microsoft Ignite - Hot Topics
Re-skilling staff for the cloud/current skills vs. required skills, and Windows Server 2008 end of support
I have recently attended the Microsoft Ignite 2019 conference in Orlando after securing a place through the ucisa bursary scheme. As part of my application (a new category for the ucisa bursary scheme application process this year) I had to outline how I would represent ucisa at my chosen event. I was aware that the ucisa Infrastructure Group currently maintain a list of Hot Topics for the sector, so as part of my application I committed to working with the ucisa IG chair, Mat Flower to identify some of the topics that I could take to the conference on behalf of the ucisa community.

The Hot Topics that I have selected to feedback information on in this particular post are 1. Re-skilling staff for the cloud/current skills vs required skills and 2. Windows Server 2008 end of support.
Hot Topic #1: Reskilling staff for the cloud/current skills vs. required skills
When reviewing the session catalogue in preparation for Ignite it became apparent to me that my technical skillset is somewhat out-dated, so this topic was high on my agenda to get some feedback on……
A large proportion of traditional IT roles will not exist in the future as institutions shift to cloud computing for example, data centre specialists might be replaced with cloud administrators or cloud architects. The following diagram has been taken from the
Microsoft Cloud Adoption Framework
and identifies what current/traditional IT roles will become in the new era.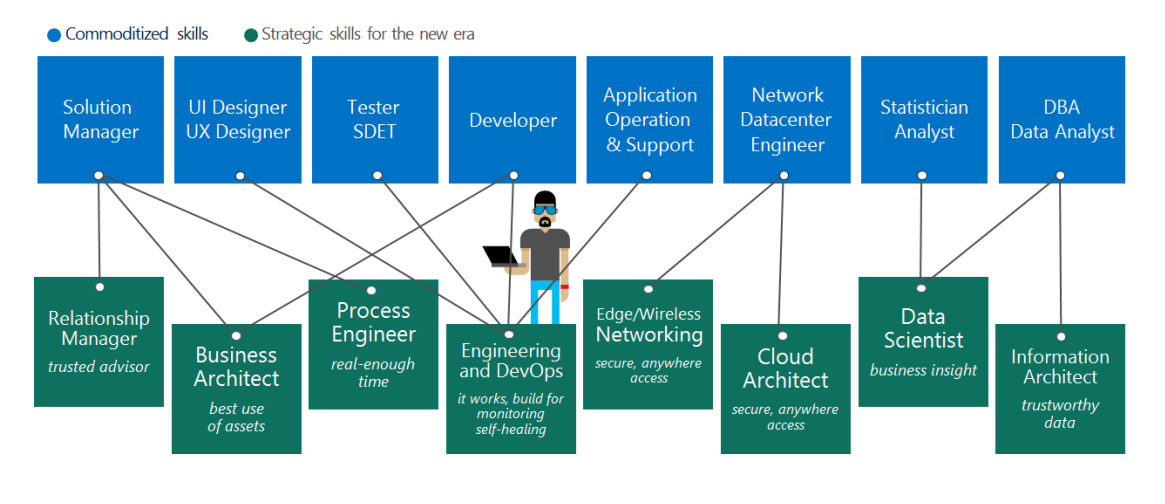 So how do we re-skill and keep up with a change in a world of cloud services? The following are some key and more importantly free resources as recommended by Microsoft themselves that can be used to res-kill:

1. Microsoft Learn website is a one stop for self-paced, guided learning on all Microsoft platform products and services. There are currently ~900 different learning paths and modules available.
2. Microsoft Azure training on Pluralsight - Microsoft have partnered with Pluralsight to provide free Azure training. With skill assessments and over 200+ courses, 40+ Skill IQs and 8 Role IQs, you can focus your time on understanding your strengths and skill gaps and learn Azure as quickly as possible.
3. Microsoft Ignite on demand sessions - The sessions at Ignite were all recorded and the videos are now available for you to watch on-demand.

Key takeaways from the conference:
• Skills will only remain current for 18 months before they need to be updated/refreshed.
• Continuous learning and reskilling needs to become the normal to keep up with the fast pace of technology changes - do it every day or every week.
• All Microsoft certifications have transitioned from being product based to being role based e.g. Server exams have become Azure exams.
• When re-skilling, make it relevant to the role you are in or want to be in but remember some roles may not exist in the future.

I also attended a really good 20 minute theatre session THR1040 | How to stay skilled in a cloud based world where Ed Baker, a Microsoft MVP, and a Microsoft Certified Trainer (Regional Lead for the UK) helps the traditional IT administrator and developer to understand the need to constantly update their skills and offers tips for doing so.



Hot Topic #2: Windows Server 2008 end of support

End of support for Windows Server 2008 is right around the corner, coming on January 14, 2020. End of support means the end of regular security updates, potentially leaving you vulnerable to security and compliance issues. I attended some sessions at Ignite that were relevant to this topic and believe our options to be as follows:

1. Upgrade or migrate to Windows Server 2016 or 2019 and continue running on-premises.
2. Migrate your Windows Server 2008 and 2008 R2 workloads into Azure to become eligible for 3 years of free Extended Security Updates until January 2023.
3. Modernize applications that are running on your at-risk servers into containers (and ideally run them in Azure).
4. Do nothing and pay for Extended support for up to 3 years on a per-server basis.

For anyone, or should I say everyone, who is still running Windows Server 2008 I would highly recommend catching-up on the following sessions:

BRK3246 Plan for Z-Day 2020: Windows Server 2008 end of support is coming! - A session by Ned Pyle where you can learn how to migrate off legacy infrastructure machines with the Storage Migration Service, in-place upgrades, cluster rolling upgrades, and Azure Migrate. Modernize your on-premises workloads, explore Azure IaaS options, and get insider information on the roadmap

MSI10 Migrating to Windows Server 2019 - In this session Rick Claus showcases how Azure hybrid management technologies can be used to migrate 2008 servers, and the roles that they host, to Windows Server 2019.

Also check-out the Migration Guide for Windows Server which helps you understand how to analyse your existing Windows Server environment, move services and applications to Azure, and - for applications that are not ready to move to Azure - keep them on-premises and upgrade to the latest version of Windows Server.