21 November 2019 - Highlights from day two of CISG-PCMG19

"But we are special!"
Warm and engaging are not words I would normally use to describe a presentation on implementing Cyber Essentials. But as Jordan described his experiences of engaging with the Public Sector Action Plan, there were murmurs of appreciation around the room about the complexities of ensuring good information security in HE. Legacy systems? Ha! We've got scores of "heritage systems" that we'll never stop using! And as for deleting users who haven't logged in a while, we've got PhD students who are inactive for years.
Persuading the sceptics
Professor John started his presentation by describing himself as a digital sceptic, but then went on to give some wonderful examples of how technology was being used within his and other institutions including simulation technology ranging from replicating illnesses in simulators for medical students through to flying a plane. The discussion also covered the inevitable topic of artificial intelligence with some speculation about where AI will take us in the future. In response to a question from the floor, Professor John reminded us that our senior management teams, as with academics, need evidence and proof that the idea, product or service you are proposing will have an impact.
VLE external/remote hosting Tweetchat
ucisa's Technology Enhanced Learning (TEL) surveys have revealed a significant shift in the number of institutions which host their main VLEs in-house, from a high of 67% in 2014 to 48% in 2018. At lunch time yesterday, ucisa's Digital Education Group held Tweetchat looking at the implications (and anticipated benefits) of moving from self- to external-hosting. Some great points were raised from ucisa member institutions from all over the UK. If you aren't on Twitter, or are new to the platform, I'd suggest that the easiest way to follow what was discussed is to look at the replies to the questions posted by @ucisa_DEG Alternatively you can follow the hash tag #UcisaVLE
Post-It notes rule
An excellent last minute stand in session on the student experience journey from City from Melanie and Eleanor who described the principles and personas they'd used to track contact points for applicants and students at City, as part of the Modernising Administration for Students programme. You can read more about it from Melanie's blog
And finally…
Hats off to James, who mixed a laconic delivery and physical theatre to tell us about GDPR implementation at Birkbeck. On a serious note, there were some great take-aways from this presentation including how to ensure students, staff and other groups are active reviewers of the data the institution holds on them.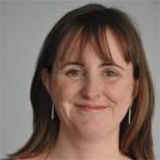 Written by Anna Mathews