15 January 2019 - Sweet Phone Chicago - mLearn 2018
Reflections on the 17th World Conference on Mobile and Contextual Learning
Back on unfamiliar ground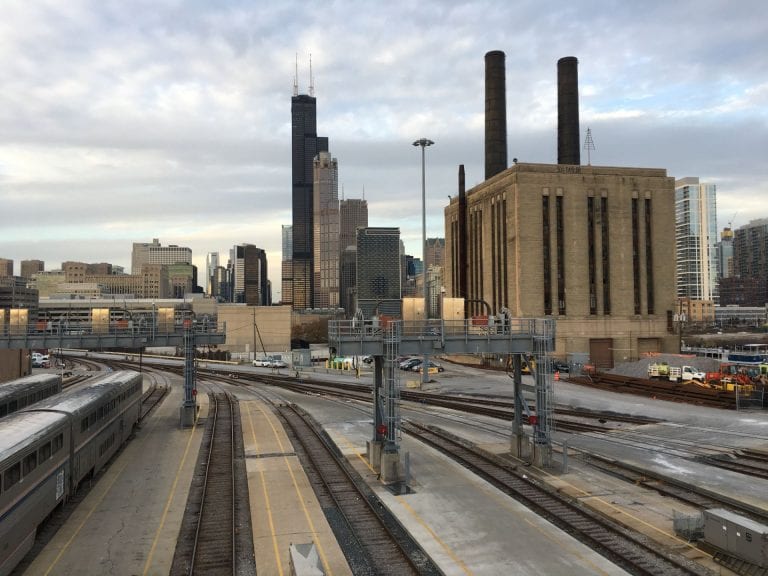 Chicago skyscrapers, seen from the train tracks

'What are you doing in the United States?' asked the border guard at O'Hare International, after I'd passed through some initial electronic checks. 'I'm here for a conference…' I offered, continuing with '…on mobile learning' when prompted for more information. The border guard softened his tone and started telling me about his wife delivering English lessons to students in China, via her smartphone. Evidently a technological development that a man like him was somewhat taken aback by. And with that exchange, I was back into the United States for the first time in 25 years and all set for a mobile-phone-driven adventure, and the next stage of my wireless collaboration quest. The path for getting there had been laid courtesy of a very generous bursary from ucisa, a fund that allows members to travel to an event that they would not usually have the opportunity to travel to. These reviews of the conference are therefore for the benefit of the ucisa community as much as for the Learning at City readership and my own reflections.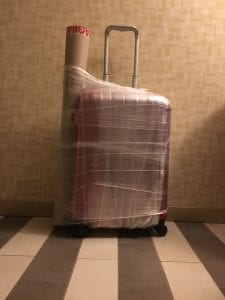 Still life on a Chicago motel floor
I was heading to the 17th World Conference on Mobile and Contextual Learning (hereafter mLearn), where I'd managed to also get myself onto the event line-up with my first poster presentation. Aside from presenting, I was driven to find out more about how mobile devices are being used in teaching and learning, particularly in HE.
In the run-up to the event, it was a race against the clock to get everything completed on time, which also meant some rapid upskilling in both Adobe InDesign and Premiere Pro. The next challenge after that was figuring out how to take the printed poster with me in such a way that it wouldn't get damaged. After multiple alternative considerations, it turns out you can shrink wrap these things to your suitcase. So that is just what I did.
The US felt very much like terra incognita at first, having been away from it for so long. The airport was clearly showing its age, but friendly faces welcomed me back onto American soil and I began to feel a little more settled. With a little help from Google's Search app, I managed to get myself onto a Chicago Transport Authority train and out to Oak Park, the outer suburb where I was staying. As I'd been led to expect, it was bitterly cold on the streets of Chicago, made all the more evident by the faint flurries of snow that the sidewalks were dusted with. I checked into my motel, got my bearings, settled down for a big plate of food nearby, then slept for almost ten hours – much needed after the intensive preparations beforehand.
A conference on mobile learning
mLearn describes itself as the 'leading international conference on mobile and contextual learning', and is organised by the International Association for Mobile Learning (IAMLearn). Having previously been hosted as far apart as Australia, South Africa and Finland, in 2018 it was the turn of the United States to host an event.
mLearn is not the only event of its kind. Hamilton, Ontario, welcomed the 12th International Conference on Interactive Mobile Communication, Technologies and Learning in 2018. The 14th International Conference Mobile Learning also happened last year, in Lisbon, Portugal, an event seemingly organised by the International Association for the Development of the Information Society (IADIS). UNESCO runs Mobile Learning Week annually in Paris, as the UN's flagship ICT in education conference, an event dedicated to using mobile devices to accelerate learning for all, and with a particular focus on development issues. mLearn appeared to have the longest pedigree as a specialist conference dedicated to mobile learning, however. It turned out that I'd cited items from their previous conference proceedings in the Compass piece linked to in a previous post of mine. I was also drawn to visiting a conference in North America, plus the date of the conference coincided nicely with my own timings.
For a gathering dubbed as a world conference, mLearn was surprisingly smaller than I'd anticipated, with 13 people in the initial workshops and only about 25 overall for most of the event. Part of this was reflective of the fact that IAMLearn was trying to build up some capacity in North America and of course that Chicago in November is a very cold place to be. It was also perhaps indicative of the struggle a relatively niche academic event can face in keeping going, particularly having been doing so for this long.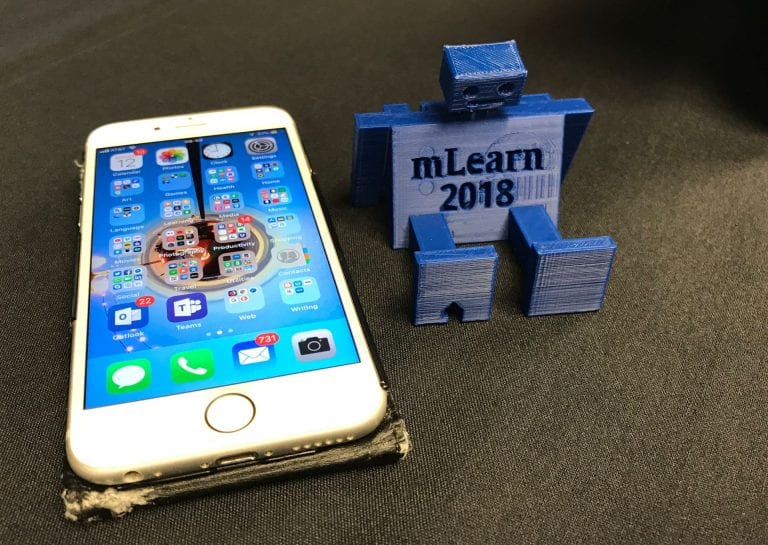 Conference freebie – a 3D-printed robot phone holder
It did actually mean though that I was able to have a really quality experience, see almost all of the sessions, get to know people well, and go deep into the themes. It also meant that the event was able to deliver a nice attention to detail. A 3D-printed robot phone holder was given free to delegates. Delegates were encouraged to go into Chicago and learn more about the city for small group workshop activities that ran as a strand throughout the event. Early on, a meet-and-greet was arranged at a restaurant on the 96th floor of the John Hancock Center Building, affording spectacular night time views across the city whilst getting to know other delegates. I was also able contribute to the AGM, through voting on new positions within the organisation and contribute to the discussion on sustaining and growing the organisation.
The next post covers the three keynote talks by Drs Tom Jandris, Helen Crompton and Rob Power.
This blog first appeared at the Learning at City blog.