14 February 2019 - Digital and society – true love or an unhealthy obsession?
Reflections from a bursary winner
In his book 'The Rise of the Humans', Dave Coplin expounds that technology is neither good, nor bad. It is simply an amplifier of whatever we, as society and individuals, choose to use it for.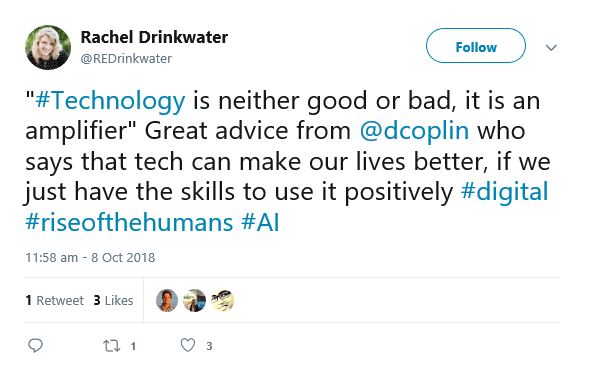 I feel I must defend myself a little at this point. I'm not anti-technology or anti-digital. I work in the field of IT, I have a passion for digital technology and I love the convenience of my digital devices and streaming services. I fully-support Coplin's theory – it is our adoption and attitude towards and use of digital technology that is causing issues in society, not technology itself.
Positive applications of technology can save lives, help us to protect the planet, bring people together and introduce all manner of convenience and efficiency into our working, social and family lives. I don't believe that we're creating a new generation of zombie-like device-users incapable of building real life human relationships or employing critical thought. I have met twelve year olds that have astounded me with their common sense, intelligence, curiosity and yes, technical capabilities. The student who gave the opening and closing speech for Coplin's lecture at Warwick School could have stood in front of any corporate board room and held his own.
In my research, the evidence suggested that those who are able to efficiently use social media and other technologies and practice 'multi-tasking' when it is appropriate to do so, stand to do well in today's digital society and workplaces. However, it is also apparent that if left unchecked and unmanaged, the issues we are seeing in society could continue and increase in prevelance and severity, creating negative knock-on impacts and detracting from the positive impacts.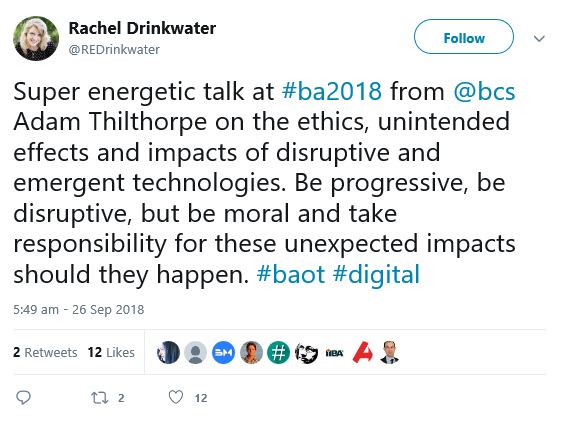 This raises a number of questions. Who should – or could – be responsible for identifying, pre-empting and mitigating against unintended and/or potentially unethical impacts of emerging technologies? Is it the responsibility of technology companies? Businesses? The Government? Educational Establishments? Parents? Individuals? Pressure groups? All of the above? And how do we begin to pre-empt such impacts when we are dealing with new, disruptive, previously-unseen technologies being released into an ever-changing society?
As a society we are experiencing an unprecedented rate of technological change. We are innovating incredibly quickly and have adopted digital technologies readily and intrinsically into our everyday lives. However, our legislation, regulation, educational systems and social and cultural norms are still changing at the same rate; comparatively slowly. It seems that we have been somewhat blindsided and as such have possibly not put in place measures to enable digital technologies to always be adopted and integrated into people's lives in a productive, safe and useful manner. At the same time, we are so enamoured with our digital devices and applications and the convenience and opportunities that they bring, that we may not be pausing to consider the unintended and long-term impacts and effects of them.
The question this raises is what happens when we fall out of limerence with digital technology? When we come down from that heady chemical rush, will we still be in love and will the relationship still be sustainable?
The media spotlight on some of the social issues in recent years and the acknowledgement by health organisations of some of the health impacts of unhealthy technology suggests that we're starting to edge out of limerence and into the stark reality of our ongoing relationship with digital technology. Perhaps we're starting to want to reconnect with our old friends 'Walk in the Countryside' and 'Conversations around the Dinner Table' who we dropped in favour of the alluring blue glow of our smartphone screens in the late 2000s. Perhaps we're starting to assert our independence a little, creating screen-free times, rather than being slaves to our devices 24/7. Perhaps we are thinking about how we can strike a balance between our online and offline lives.
This article first appeared on Rachel's blog.